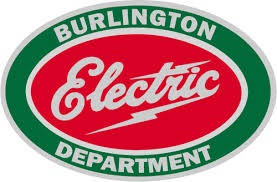 Burlington Electric
Burlington Electric Launches Solar Shopper Program
---
July 14, 2017
The Burlington Electric Department today, joined by Mayor Miro Weinberger, launched its new Solar Shopper program, designed to help Burlingtonians shop for solar through a new, easy-to-use, web-based comparison shopping tool. This program is designed to help residential and small commercial customers install net-metered solar arrays of up to 15 kilowatts. Through a partnership with six solar vendors, Burlington Electric, the first utility in Vermont to offer such a program, will help its customers make better solar decisions by providing personalized, comparative pricing information within three business days. Burlington Electric has set an ambitious goal of 100 new solar installations during the upcoming year. 
"Whether we're partnering with the community to defeat the peak,' helping customers with the purchase of electric vehicles, installing EV charging stations, or now working with the community to go and grow solar, Burlington Electric honors its ongoing commitment to build a sustainable energy future that supports a growing economy and a thriving community," stated Neale Lunderville, Burlington Electric General Manager. "Once again, Burlington Electric is leading through energy innovation, and Solar Shopper is an important component of our efforts to make Burlington a net zero energy city."
The number of solar installations in Burlington has increased six-fold since the Weinberger Administration began to focus on making it easier to go solar in Burlington. Prior to 2012, fewer than 25 solar arrays had been installed in Burlington.
"Solar power is now a real, affordable option for many Vermonters," said Mayor Weinberger.  "This exciting new BED program will make it much easier for Burlingtonians to join the solar revolution, help us keep electric rates low, and move the community closer to achieving our net zero goal."
Easy-to-Use Web Tool
Burlington Electric customers are invited and encouraged to take advantage of the Solar Shopper program by visiting our web site and entering a minimal amount of information, including: name; property address; type of installation (roof or ground-mounted); roof type and age; and most important aspect of going solar (quick return on investment, low monthly payment, reducing electric bill, top quality equipment). Once a customer completes the online form and gives consent, Burlington Electric will provide its solar vendor partners with electric usage information, and each partner will have the opportunity to prepare a customized, free estimate based on the specific information provided. Burlington Electric then will prepare for its customer a one-page solar quotes document in an easy-to-compare format (sample document below), including a column for each solar vendor who provided an estimate. Information categories will include: number of panels; size of array in kilowatts; annual kilowatt hours produced; total system cost; estimated cost after incentives; country of manufacture for panels; warranty information for panels, inverters, and system workmanship; panel performance warranty after 25 years; estimated bill savings in year one and payback time period using Burlington Electric rate projections; estimated install time; and financing options.

Click here to read the full press release.
For more information :
Organization:
Burlington Electric Department

Address:
585 Pine St.
Burlington, Vermont
United States, 05401
www.burlingtonelectric.com