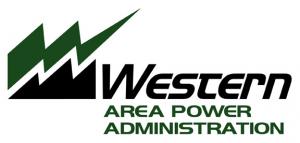 Western Area Power Administration
WAPA providing additional hydropower to customers
---
May 23, 2017
Due to an exceptional snowpack and water year in the Rocky Mountains, Western Area Power Administration's Colorado River Storage Project is providing additional low-cost hydropower to its customers.
The Gunnison River basin and the Green River basin both experienced above-average snowpack this past season and will require planning and mitigation of water levels. The additional water release allows the dams on these river systems to run the hydropower generation at nearly 100 percent capacity. 

"The additional power generation available to our customers allows for better utilization of the water resources," said Public Utilities Specialist Chrystal Dean. "And the power is provided at our cost-based rate, which means they can provide the savings to their customers as well."

The additional hydropower will be generated through planned releases at the Aspinall Units and Flaming Gorge. The Aspinall Units' are located on the Gunnison River and include the Blue Mesa Dam, Morrow Point Dam and Crystal Dam. The Flaming Gorge Dam is on the Green River.

This year the Gunnison River Basin saw 144 percent of annual snowpack and Flaming Gorge on the upper Green River had a record-setting year receiving 231 percent of annual snowpack. The exceptionally high snowpack requires vigilant management of the spring melt and runoff.

The last time additional hydropower was made available was summer 2011. Most of the additional power then was driven by the Glen Canyon Dam generation through a required equalization water release.
About WAPA: Western Area Power Administration annually markets and transmits more than 25,000 gigawatt hours of clean, renewable power from 56 federal hydroelectric powerplants owned and operated by the Bureau of Reclamation, U.S. Army Corps of Engineers and International Boundary and Water Commission in 15 western and central states. It is part of the Department of Energy.
For more information :
Organization:
Western Area Power Administration

Address:
12155 W Alameda Pkwy
Lakewood, Colorado
United States, 80228-8213
www.wapa.gov

Contact:
David Russell
Tel: 720-962-7056 or 720-962-7411
E-mail: MediaRelations@wapa.gov