Bringing Renewable Energy to the Grid
Volume 7, Issue 25


by Jacob Susman, EDF Renewable Energy
---
Bringing renewable energy to the grid is no easy achievement. Even with the savviest team of experts and a strong balance sheet, it takes a wealth of patience and resources to navigate through each project's complex roadmap. By way of 7,782 MW developed in North America, we undoubtedly know a little something on the topic of greening North America and bringing renewable energy to the grid. In addition to our own development, we are particularly strong in Operations & Maintenance where we operate and maintain 10.5 GW of renewable projects for our own accord and third parties.
Our goal is to meet utilities' need for reliability and also those of corporations, who want sustainability. New investments in transmission and distribution are helping to facilitate these wants and needs. Coupling all that with EDF RE's experience brings it all home to green the grid in a reliable manner.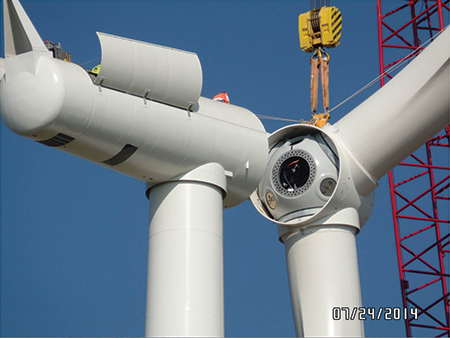 Utilities Buying into Renewables
Utilities have to consider new strategies for integrating increasing amounts of renewable energy into the power system, while maintaining economic and reliable operation of the grid. Although utilities have been progressively installing wind and solar power systems to provide larger rations of electricity generation, many utilities also express concerns about possible impacts of clean energy on electric power system operations, because of the natural variability of the wind and sun. Our goal is to help operators find ways to reliably integrate renewable energy into system operations. It's important to manage that integration in a way that also enables these clean energy projects to improve the power quality of the electric grid.
It's all about monitoring and technology
With the advances in technology today we are able to monitor all aspects of operating projects so we can improve economic and reliable operation of the grid. Our state of the art Operations and Control Center (OCC) provides 24/7 remote monitoring and basic trouble shooting. The facility is staffed around the clock, 365 days a year, with trained and experienced operation technicians. From the OCC we evaluate project performance via the SCADA system (Supervisory Control and Data Acquisition), conduct remote restarts, and dispatch service technicians to the fault site as necessary. In addition, the OCC has the ability to provide off-hours curtailment response, reporting, and warranty notice documentation. The OCC uses advanced technology to optimize turbine availability and profitability and ensure projects increase revenue around the clock.
Corporations Buying into Renewables
Selling power directly to the utility is not the only way we green the grid, EDF RE has signed Power Purchase Agreements (PPA) with well-known corporations: Google, Procter & Gamble, Microsoft, Walmart, Yahoo! and Safeway, to name a few. For the last decade, large companies have increasingly set sustainability targets. According to Ceres and World Wildlife Fund, two leading non-governmental organizations who have been encouraging this shift by corporations, 43 percent of the Fortune 500 have goals to reduce their carbon footprint, reduce their energy usage, or power a portion of their operations with renewable energy. Large companies, as for-profit entities, have naturally tried to find cost effective ways of meeting these goals.
With the 60 percent decrease in the cost of wind in the last five years, companies view renewable energy as a viable way to reduce their carbon footprint. But in a perfect world, the stars would all align; the grid would have capacity, the transmission line would be in a reasonable proximity, and the manufacturing facility or datacenter would be located in the middle of it all. In a not so perfect world, we overcome these obstacles in our goal to bring more renewable energy to the grid by working with the utility.
Electricity generated in one location cannot be directed to a specific user over the electricity grid. Our PPA's with corporations capitalize on this amorphous nature of electricity through a structure referred to as a Virtual PPA' (VPPA). Below is an example of how the VPPA work.
P&G buys electricity from EDF Renewable Energy in the form of a power purchase agreement (PPA). A PPA is a long term contract to buy power over a period of time at a negotiated rate from a specific facility, in this case, the Tyler Bluff Wind Project in Texas.
P&G will then sell that power back into the grid at the local, wholesale price. This may result in paying slightly higher prices now for the renewable energy if the gird power is cheaper, but as power becomes more expensive over time, the price P&G locked-in will lead to a profit relative to what they would have paid for grid power, whose cost is expected to rise. In the process the renewable energy credits (RECs) are retired such that no other party can claim credit for the green aspect of P&G's purchase.
Lastly, P&G will apply those RECs to the energy used at their manufacturing facilities.
We are all seeing the big corporate names in the headlines lately buying into renewables and we expect this market to continue and to significantly grow over the next few years. It just makes good business sense.
Incentives
The United States is committed to improving the nation's electric grid and spurring the development of renewable energy by modernizing our electric transmission infrastructure. Recently, Congress passed a bill that includes provisions to extend federal tax credits for wind and solar generation. This action not only helps to continue the development of clean, stable energy in the United States but it also secures the careers of thousands of American renewable industry workers across all 50 states.
In a nutshell
The nature of our business is to make a difference in the world by producing clean, renewable energy in the most economical, environmentally and socially responsible way possible. We take great pride in the jobs we are creating and the communities we are enriching. We are always looking for new ways to meet utilities' need for reliability and corporations' desire for sustainability. There is no secret formula to greening the grid but we do know for EDF Renewable Energy the foundation is built on commitment, patience, respect and talented people to get these projects online.
---
Jacob Susman
Jacob Susman, VP, Head of Origination
EDF Renewable Energy



---


Jacob Susman has been building businesses, investing, and developing projects in renewable energy since 1999. He led OwnEnergy from inception to its sale in August of 2015 to EDF Renewable Energy, including recruiting and managing its industry-leading team, raising capital, establishing a nationwide brand, sourcing new business, developing projects building customer relationships and generating revenue. Today, he serves as VP, Head of Origination where he leads EDF RE's relationships with both utility and corporate customers around the US for the Company's wind and solar portfolio. Jacob is an active member of the Board of the American Wind Energy Association, where he serves as its Treasurer.

Jacob also serves on the Advisory Board of the Business Renewables Center. In 2010, Jacob was named to Crain's New York '40 Under 40', and in 2012, he was named an E&Y Entrepreneur Of The Year Finalist. In 2013, Greentech Media named him one of New York's Top 10 Cleantech Leaders.